Create A Landscape You Love!
Quality Landscaping Supplies for Huntingdon, PA
Staff & Displays That Inspire
Well-stocked & Clean Yard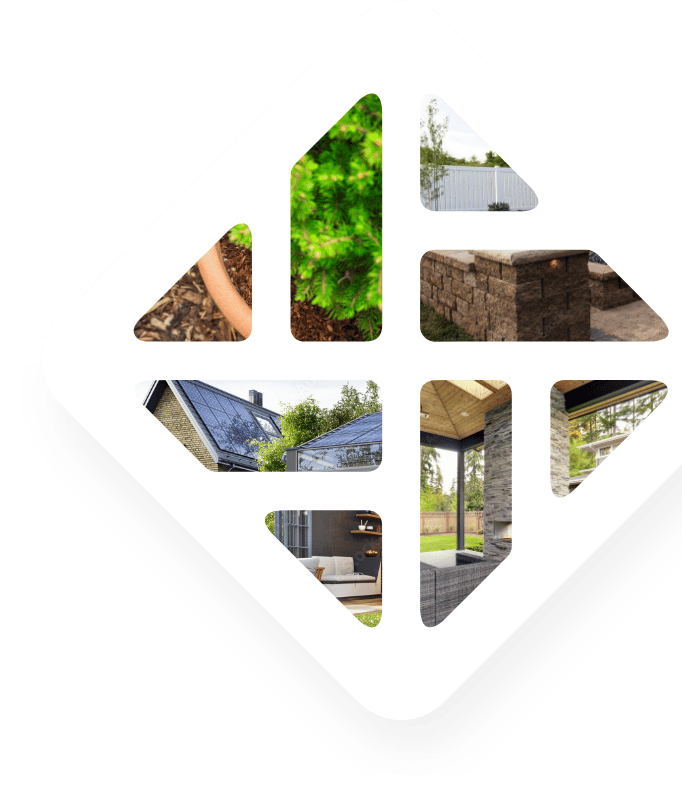 Everything you need for your next landscaping project in Huntingdon
Inspiration
Whether it's our helpful staff or outdoor displays, get the inspiration you need for your project.
Products
Enjoy a well-stocked and organized yard so that you can get what you need - when you need it!
Service
Get the relationships, customer service, and complete satisfaction that comes from a local, family-owned business.
Landscaping Products for Huntingdon
Do you find working in your backyard frustrating because…
You have an idea for your backyard but don't know how to make it a reality?

You don't know which product works best or how much product to order?

You're having trouble finding the specific pieces you need?
At Terrascape Supply, we want to help make your dream outdoors a reality by…
A knowledgeable team offering inspiration and advice

Having a variety of displays that showcase what's possible

Helping you find the perfect products

Providing a wide variety of materials

Delivery services with drivers who care about your property
We Make Quality Landscaping Materials
Simple in Huntingdon!
Purchase
Order your products online or
visit our store.
Delivery or Pickup
Schedule a delivery date or pick them up.
Enjoy!
Enjoy working with quality landscape products!
Knowledgeable Team
From sales to delivery, our team is here to help you find the products that are right for you and your backyard.
Source of Inspiration
We want to help you with your next project, whether it's our helpful team or wide range of displays at our store.
Customer Service
We offer only the best in products, and we strive for complete customer satisfaction if something doesn't meet our standards.
Organized Yard
Our yard is kept clean and organized to make your experience as easy and clean as possible!
Your source for local landscaping
supplies in Huntingdon, PA
Many homeowners and contractors in Huntingdon have trouble finding the right landscaping products or inspiration they need for their dream outdoors.
At Terrascape Supply, our knowledgeable staff, well-stocked yard, and inspirational displays make sure you have everything you need to love your backyard!
Do you dream of a gorgeous outdoor space where you can host, spend family time, or simple unwind after a long day? 
We get it! Most homeowners want some sort of outdoor space where they can connect with friends and family while enjoying the great outdoors. 
That's why we offer a wide range of quality outdoor landscaping supplies for homeowners in Huntingdon, PA. We've got everything you need for your next landscaping project, even the inspiration! 
Give us a call today to learn more about how you can transform your outdoor space! 
The borough of Huntingdon is located in Huntingdon County, PA. It has a population of roughly 7,000 residents, and it covers a land area of about 3.4 square miles. Situated along the lovely Juniata River, in the central region of the state, the countryside around Huntingdon is known for its scenic beauty, with rolling hills, forests, and picturesque landscapes. 
The borough itself offers small town charm and a close knit community. It also has a range of amenities for both visitors and residents alike. 
The history of the Borough of Huntingdon, PA, dates back to the 18th century, when the area was first settled by European immigrants. Later on in years, the region played a role in the development of transportation and industry during the 18th century. The borough also became an important stop along the Pennsylvania Canal and later the Pennsylvania Railroad. These transportation routes greatly influenced the growth of the town. 
The borough of Huntingdon also has historical significance related to the Civil War era, as it was a major transportation hub for troops and supplies. Today, Huntingdon preserves its historic charm through well-preserved architecture and many historical landmarks that showcase its heritage. 
There are plenty of tourist attractions and fun things to do and see in Huntingdon today! These attractions in the area include the beautiful Raystown Lake, where outdoor enthusiasts can swim, fish, boat, and enjoy the lake's scenic beauty. There is also Juniata College, a private liberal arts college with a beautiful campus, and numerous nearby state parks such as Greenwood Furnace Park and Whipple Dam State Park. 
A list of the most popular tourist attractions in the area might include: 
Raystown Lake

Juniata College

Isett Heritage Museum

Greenwood Furnace State Park

Whipple Dam State Park

Lincoln Caverns and Whisper Rocks

Seven Points Marina

The Broad Top Area Coal Miners Museum

Lake Raystown Resort Waterpark

Huntingdon County Historical Society

Riverview Park

Juniata River Water Trail

Swigart Museum

1000 Steps Hiking Trail

Trough Creek State Park
If you are ever in the area you'll have to see it all for yourself–but if you are a resident you'll already know all about it. 
If you are a Huntingdon, PA resident and you want landscape supplies to transform your outdoor space, give us a call here at Terrascape supply! We would love to help you out with everything you need to create your outdoor dreams! 
We serve all Huntingdon, PA, zip codes, 16652, 16654, as well as surrounding areas. We look forward to hearing from you!
We provide and delivery landscaping supplies to much of Central PA and Southcentral PA, including the following locations. Don't see your location below? Call us or contact us to see if we service your area!
Huntingdon Landscape Supply FAQ's
Adding fresh mulch is a way to give your landscaping an easy update. Building a paver walkway and/or patio also adds considerable curb appeal. Adding a pergola or pavilion and fire pit area makes the outdoor living area much more attractive.
Spraying with a weed or grass killer is an easy way to prepare a landscape area for mulch. It is helpful to edge around the landscape area to create a clear line between the grass and the bed area. We recommend weed control fabric underneath decorative river rock but not under mulch.
We recommend using weed-control fabric under decorative stone, but it's not very helpful to use it under mulch.
Absolutely! While we don't provide official design or drafting services, we are happy to give you inspiration from our experienced team. We love outdoor living spaces and have lots of ideas for you on how to improve your backyard!
We carry a wide variety of decorative gravels and mulches; various paver, retaining wall, and fire pit hardscape products; fireplaces, Big Green Eggs, and grills; outdoor lighting; outdoor furniture; pergolas and pavilions; greenhouse and aquatic plants; and pond and fountain supplies.
We will deliver pretty much anything you can buy here. The most common products we deliver are mulches, gravels, hardscape products, and poly furniture.