Create A Landscape You Love!
Quality Landscaping Supplies for Warriors Mark, PA
Staff & Displays That Inspire
Well-stocked & Clean Yard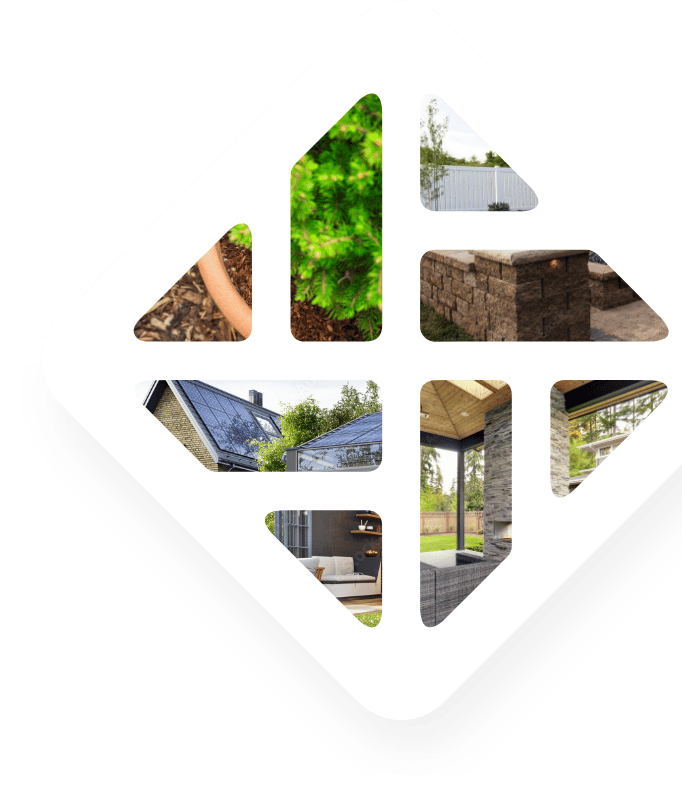 Everything you need for your next landscaping project in Warriors Mark
Inspiration
Whether it's our helpful staff or outdoor displays, get the inspiration you need for your project.
Products
Enjoy a well-stocked and organized yard so that you can get what you need - when you need it!
Service
Get the relationships, customer service, and complete satisfaction that comes from a local, family-owned business.
Landscaping Products for Warriors Mark
Do you find working in your backyard frustrating because…
You have an idea for your backyard but don't know how to make it a reality?

You don't know which product works best or how much product to order?

You're having trouble finding the specific pieces you need?
At Terrascape Supply, we want to help make your dream outdoors a reality by…
A knowledgeable team offering inspiration and advice

Having a variety of displays that showcase what's possible

Helping you find the perfect products

Providing a wide variety of materials

Delivery services with drivers who care about your property
We Make Quality Landscaping Materials
Simple in Warriors Mark!
Purchase
Order your products online or
visit our store.
Delivery or Pickup
Schedule a delivery date or pick them up.
Enjoy!
Enjoy working with quality landscape products!
Knowledgeable Team
From sales to delivery, our team is here to help you find the products that are right for you and your backyard.
Source of Inspiration
We want to help you with your next project, whether it's our helpful team or wide range of displays at our store.
Customer Service
We offer only the best in products, and we strive for complete customer satisfaction if something doesn't meet our standards.
Organized Yard
Our yard is kept clean and organized to make your experience as easy and clean as possible!
Your source for local landscaping
supplies in Warriors Mark, PA
Many homeowners and contractors in Warriors Mark have trouble finding the right landscaping products or inspiration they need for their dream outdoors.
At Terrascape Supply, our knowledgeable staff, well-stocked yard, and inspirational displays make sure you have everything you need to love your backyard!
Landscaping and gardening can seem like a daunting task for homeowners in the area of Warriors Mark Township, PA. Although the final result of owning a beautiful yard is exciting, working in your backyard can be frustrating. Maybe you have an idea for your backyard but don't know how to make it a reality. Or maybe you don't know which product works best, or how much product to order, or you can't seem to find the components that you need.
The team at Terrascape Supply is here to help. We have lots of competent, knowledgeable, and friendly staff members who are ready to assist you with all your landscape and garden needs. If you already have a landscaping style in mind, we'll provide the advice and tips you need to bring your ideas to fruition. If you're still undecided as to what design you would prefer, you can gain inspiration by meeting with team members or visiting the wide range of displays in our store. Once you have found something you're excited about, we'll help you select the right products from our extensive resources. 
We offer only the best products, and we strive for complete customer satisfaction. We'll work with you to turn your yard in Warriors Mark Township, PA, into a place you're truly proud of.
If you're a resident of Warriors Mark Township, PA, you're likely already familiar with these excellent local businesses and attractions:
Indian Caverns

Arch Spring

Tytoona Cave

DelGrosso's Amusement Park

Skytop Mountain Golf Club

Hidden Ridge Bed & Breakfast

Deer Hollow Bed & Breakfast

Nino's Pizza

Mac's Market & The Gridiron

East End Pizza Pie
Warriors Mark is a township within Huntington County, PA. The township is about 25 miles northwest of Huntingdon and 20 miles southwest of State College. The village of Warriors Mark dates back to the year 1768, and the township was formed in 1798. According to Wikipedia, tradition holds that "the name Warriors Mark comes from warriors of the Iroquois Federation marking trees midway between the current villages of Warriors Mark and Spring Mount on the Great Indian Warpath."
The official Warriors Mark Township website says this about the township:
"Warriors Mark Township is nestled in a pastoral valley between two ridges in Central Pennsylvania, and is a place of great natural beauty.  Much of the land in the Township is farmed, and our Township is very rural. From a land planning standpoint, the Township considers itself progressive, in that, unlike many of its municipal neighbors, the Township has enacted a Zoning Ordinance.  The Township also has a Stormwater Management Ordinance, and a Subdivision and Land Development Ordinance."
According to point2homes.com, there are approximately 1,966 residents in Warriors Mark. Of that number, 47.91% are males, and 52.09% are females, and the overall median age is 46.4. 
The area is currently experiencing a lot of growth, caused by the expansion of the State College area economy. The township of Warriors Mark has been named the fastest-growing township in Huntingdon County, and the future of Warriors Mark looks quite promising.
Terrascape Supply is proud to offer landscaping services and outdoor products for Warriors Mark Township, PA, zip code 16877, and surrounding areas.
Warriors Mark Landscape Supply FAQ's
Adding fresh mulch is a way to give your landscaping an easy update. Building a paver walkway and/or patio also adds considerable curb appeal. Adding a pergola or pavilion and fire pit area makes the outdoor living area much more attractive.
Spraying with a weed or grass killer is an easy way to prepare a landscape area for mulch. It is helpful to edge around the landscape area to create a clear line between the grass and the bed area. We recommend weed control fabric underneath decorative river rock but not under mulch.
We recommend using weed-control fabric under decorative stone, but it's not very helpful to use it under mulch.
Absolutely! While we don't provide official design or drafting services, we are happy to give you inspiration from our experienced team. We love outdoor living spaces and have lots of ideas for you on how to improve your backyard!
We carry a wide variety of decorative gravels and mulches; various paver, retaining wall, and fire pit hardscape products; fireplaces, Big Green Eggs, and grills; outdoor lighting; outdoor furniture; pergolas and pavilions; greenhouse and aquatic plants; and pond and fountain supplies.
We will deliver pretty much anything you can buy here. The most common products we deliver are mulches, gravels, hardscape products, and poly furniture.