Create A Landscape You Love!
Quality Landscaping Supplies for Nanty Glo, PA
Staff & Displays That Inspire
Well-stocked & Clean Yard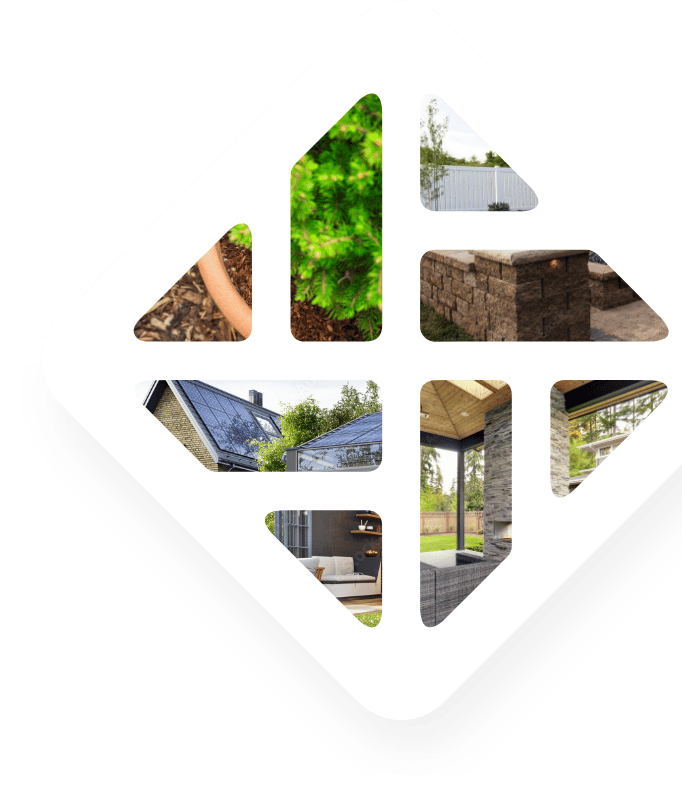 Everything you need for your next landscaping project in Nanty Glo
Inspiration
Whether it's our helpful staff or outdoor displays, get the inspiration you need for your project.
Products
Enjoy a well-stocked and organized yard so that you can get what you need - when you need it!
Service
Get the relationships, customer service, and complete satisfaction that comes from a local, family-owned business.
Landscaping Products for Nanty Glo
Do you find working in your backyard frustrating because…
You have an idea for your backyard but don't know how to make it a reality?

You don't know which product works best or how much product to order?

You're having trouble finding the specific pieces you need?
At Terrascape Supply, we want to help make your dream outdoors a reality by…
A knowledgeable team offering inspiration and advice

Having a variety of displays that showcase what's possible

Helping you find the perfect products

Providing a wide variety of materials

Delivery services with drivers who care about your property
We Make Quality Landscaping Materials
Simple in Nanty Glo!
Purchase
Order your products online or
visit our store.
Delivery or Pickup
Schedule a delivery date or pick them up.
Enjoy!
Enjoy working with quality landscape products!
Knowledgeable Team
From sales to delivery, our team is here to help you find the products that are right for you and your backyard.
Source of Inspiration
We want to help you with your next project, whether it's our helpful team or wide range of displays at our store.
Customer Service
We offer only the best in products, and we strive for complete customer satisfaction if something doesn't meet our standards.
Organized Yard
Our yard is kept clean and organized to make your experience as easy and clean as possible!
Your source for local landscaping
supplies in Nanty Glo, PA
Many homeowners and contractors in Nanty Glo have trouble finding the right landscaping products or inspiration they need for their dream outdoors.
At Terrascape Supply, our knowledgeable staff, well-stocked yard, and inspirational displays make sure you have everything you need to love your backyard!
Many homeowners in the Nanty Glo area would love to own a beautiful backyard or outdoor space. You might be interested in a location to host parties, spend time with loved ones, or simply relax.
But many homeowners don't know where to start on a project of that scale. Maybe you have an idea for your backyard, but don't know how to get started. Or maybe you don't know which product works best, or how much product to order.
At Terrascape Supply, we're here to answer all your questions, and to help you turn your hopes for your outdoor space into a reality. We've recruited a knowledgeable team that can give you quality advice and help you find inspiration for what your space could turn into. We'll help you select the perfect products from our wide variety of materials. We also offer delivery services with conscientious drivers who care about your property. We'll work with you to turn your yard in Nanty Glo, PA, into a place that you're truly proud of.
Residents of Nanty Glo, PA, are likely familiar with these local businesses and attractions:
Staple Bend Tunnel Park

Johnstown Flood National Memorial

Portage Station Museum

King's Springs Farm Bed & Breakfast

Ghost Town Trail

Bestway Pizza

The Meadows

La Fiesta Mexican Bar and Grille

Heritage Discovery Center

Johnstown Flood Museum
Nanty Glo, PA, is a borough found in Cambria County. The name is derived from the Welsh phrase "Nant Y Glo," which means "The Ravine (or brook) of Coal." The community originated in the 1890s, and was called Glenglade. 
During the late 1800s and early 1900s, coal mining became the dominant industry in Nanty Glo. The first commercial mine was dug in 1896 by Dr. James W. Dunwiddie. In 1940, the town of Nanty Glo was described in the Pennsylvania guide as "a valley coal town wrapped in a mist of sulfurous gas. Four large bituminous coal mines support the town, which was founded in 1888 as a lumber camp. Rows of yellow shacks extend back from the central mine. Some, flanked by mine heaps, cling to the mountain sides."
Wikipedia gives a description of some of the other businesses and organizations that have been present in Nanty Glo throughout its history.
The first house of worship in Nanty Glo was the Methodist Episcopal Church, now United Methodist, established in 1901. Other places of worship in the community, past and present, include St. Mary's Roman Catholic, First Baptist, St. Nicholas Byzantine Catholic, Church of God, Christian & Missionary Alliance and Holy Ascension Ukrainian Orthodox, Church of the Brethren, and Church of the Nazarene. In the 1920s, a Kingdom Hall of Jehovah's Witnesses, a Finnish Lutheran Church, and a Jewish synagogue were started, all three of which no longer exist.

Over the years, Nanty Glo had several hotels, including the Home, St. James, Commercial, and Jackson. At one time Nanty Glo had three movie houses, two of which have been destroyed by fires. The third, the Liberty, is now being remodeled as the Blacklick Valley's historical museum.

In addition to coal mining, Nanty Glo had at various times a chemical works, soft drink bottling plant, plastic factory, and a dress manufacturing firm.
Today, Nanty Glo is a lovely small town. The population was 2,472 in 2019: 1,200 males and 1,272 females. The median resident age was 45.5.
Terrascape Supply is proud to provide landscaping inspiration, products, and service for Nanty Glo, PA, zip code 15943, and surrounding areas.
Nanty Glo Landscape Supply FAQ's
Adding fresh mulch is a way to give your landscaping an easy update. Building a paver walkway and/or patio also adds considerable curb appeal. Adding a pergola or pavilion and fire pit area makes the outdoor living area much more attractive.
Spraying with a weed or grass killer is an easy way to prepare a landscape area for mulch. It is helpful to edge around the landscape area to create a clear line between the grass and the bed area. We recommend weed control fabric underneath decorative river rock but not under mulch.
We recommend using weed-control fabric under decorative stone, but it's not very helpful to use it under mulch.
Absolutely! While we don't provide official design or drafting services, we are happy to give you inspiration from our experienced team. We love outdoor living spaces and have lots of ideas for you on how to improve your backyard!
We carry a wide variety of decorative gravels and mulches; various paver, retaining wall, and fire pit hardscape products; fireplaces, Big Green Eggs, and grills; outdoor lighting; outdoor furniture; pergolas and pavilions; greenhouse and aquatic plants; and pond and fountain supplies.
We will deliver pretty much anything you can buy here. The most common products we deliver are mulches, gravels, hardscape products, and poly furniture.