Create A Landscape You Love!
Quality Landscaping Supplies for Everett, PA
Staff & Displays That Inspire
Well-stocked & Clean Yard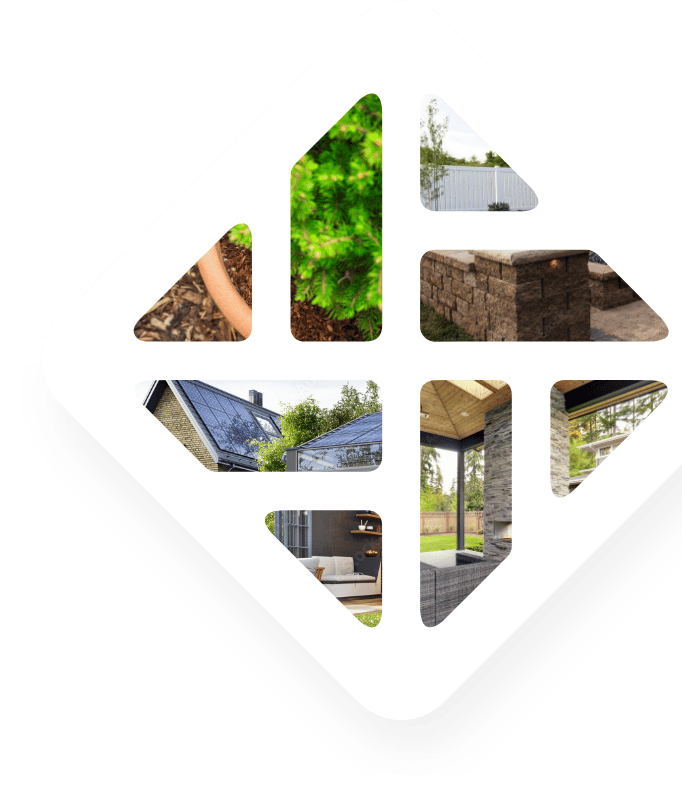 Everything you need for your next landscaping project in Everett
Inspiration
Whether it's our helpful staff or outdoor displays, get the inspiration you need for your project.
Products
Enjoy a well-stocked and organized yard so that you can get what you need - when you need it!
Service
Get the relationships, customer service, and complete satisfaction that comes from a local, family-owned business.
Landscaping Products for Everett
Do you find working in your backyard frustrating because…
You have an idea for your backyard but don't know how to make it a reality?

You don't know which product works best or how much product to order?

You're having trouble finding the specific pieces you need?
At Terrascape Supply, we want to help make your dream outdoors a reality by…
A knowledgeable team offering inspiration and advice

Having a variety of displays that showcase what's possible

Helping you find the perfect products

Providing a wide variety of materials

Delivery services with drivers who care about your property
We Make Quality Landscaping Materials
Simple in Everett!
Purchase
Order your products online or
visit our store.
Delivery or Pickup
Schedule a delivery date or pick them up.
Enjoy!
Enjoy working with quality landscape products!
Knowledgeable Team
From sales to delivery, our team is here to help you find the products that are right for you and your backyard.
Source of Inspiration
We want to help you with your next project, whether it's our helpful team or wide range of displays at our store.
Customer Service
We offer only the best in products, and we strive for complete customer satisfaction if something doesn't meet our standards.
Organized Yard
Our yard is kept clean and organized to make your experience as easy and clean as possible!
Your source for local landscaping
supplies in Everett, PA
Many homeowners and contractors in Everett have trouble finding the right landscaping products or inspiration they need for their dream outdoors.
At Terrascape Supply, our knowledgeable staff, well-stocked yard, and inspirational displays make sure you have everything you need to love your backyard!
Many homeowners in the Everett area desire a lovely backyard or outdoor space. You may want a place to host parties, spend time with loved ones, or simply relax.
But many homeowners find it very challenging to turn those aspirations into reality. Perhaps you have an idea for your backyard but don't know how to get started. It can also be difficult to discern which product works best, or how much product to order. 
Terrascape Supply is dedicated to transforming your dreams of an exceptional outdoor area into tangible results. Our team of experts is ready to offer guidance and assist you in discovering new sources of inspiration. With our assistance, you'll easily locate the ideal products from our diverse range of materials. Moreover, we provide convenient delivery services carried out by conscientious drivers who prioritize the well-being of your property. Together, we'll collaborate to transform your Everett, PA yard into a space that fills you with pride.
If you're a resident of Everett, PA, you're probably already familiar with these great businesses and attractions:
Everett Railroad Station Museum

Tenley Park

Mid State Trail

Roadside Giants of the Lincoln Highway

Juniata Trading Post

The Union Hotel

The 1788 Inn

Best Way Pizza

Kelly's Scenic View Restaurant

The Brite Spot Sub and Pizza Shop
Everett, a borough in Bedford County, PA, was originally named Bloody Run, since it was the location of a battle between settlers and Native Americans. The town was later renamed after Eward Everett, a Massachusetts politician.
Wikipedia provides some helpful information on the geography of Everett:
"Located in a valley of the Allegheny Mountains, Everett sits within a natural transportation corridor where the Raystown Branch of the Juniata River has carved a water gap, called The Narrows, through Tussey Mountain. The Alleghenies are a sub-region of the much larger Appalachian Mountains, and cover an area of central Pennsylvania, western Maryland and northern West Virginia. The countryside surrounding Everett is composed mainly of large forested areas, extensive agricultural fields, pasture, small villages, and woodlots.

U.S. Route 30 bypasses the borough along its northern edge. The highway's former route, the Lincoln Highway, passes through the center of town as Main Street. Interstate 76, the Pennsylvania Turnpike, passes just south of the borough but does not provide access, with the nearest exits being Bedford 10 miles (16 km) to the west and Breezewood 8 miles (13 km) to the east."
The population of Everett in 2019 was 1,719 people: 848 males and 871 females. The median resident age is 38.7 years. The estimated median household income was $36,373 in 2019, up from $23,919 in 2000. 
Everett is a great town, and we're proud to provide landscaping inspiration, products, and service for Everett, PA, zip code 15537, and surrounding areas.
Everett Landscape Supply FAQ's
Adding fresh mulch is a way to give your landscaping an easy update. Building a paver walkway and/or patio also adds considerable curb appeal. Adding a pergola or pavilion and fire pit area makes the outdoor living area much more attractive.
Spraying with a weed or grass killer is an easy way to prepare a landscape area for mulch. It is helpful to edge around the landscape area to create a clear line between the grass and the bed area. We recommend weed control fabric underneath decorative river rock but not under mulch.
We recommend using weed-control fabric under decorative stone, but it's not very helpful to use it under mulch.
Absolutely! While we don't provide official design or drafting services, we are happy to give you inspiration from our experienced team. We love outdoor living spaces and have lots of ideas for you on how to improve your backyard!
We carry a wide variety of decorative gravels and mulches; various paver, retaining wall, and fire pit hardscape products; fireplaces, Big Green Eggs, and grills; outdoor lighting; outdoor furniture; pergolas and pavilions; greenhouse and aquatic plants; and pond and fountain supplies.
We will deliver pretty much anything you can buy here. The most common products we deliver are mulches, gravels, hardscape products, and poly furniture.