Create A Landscape You Love!
Quality Landscaping Supplies for Bedford County, PA
Staff & Displays That Inspire
Well-stocked & Clean Yard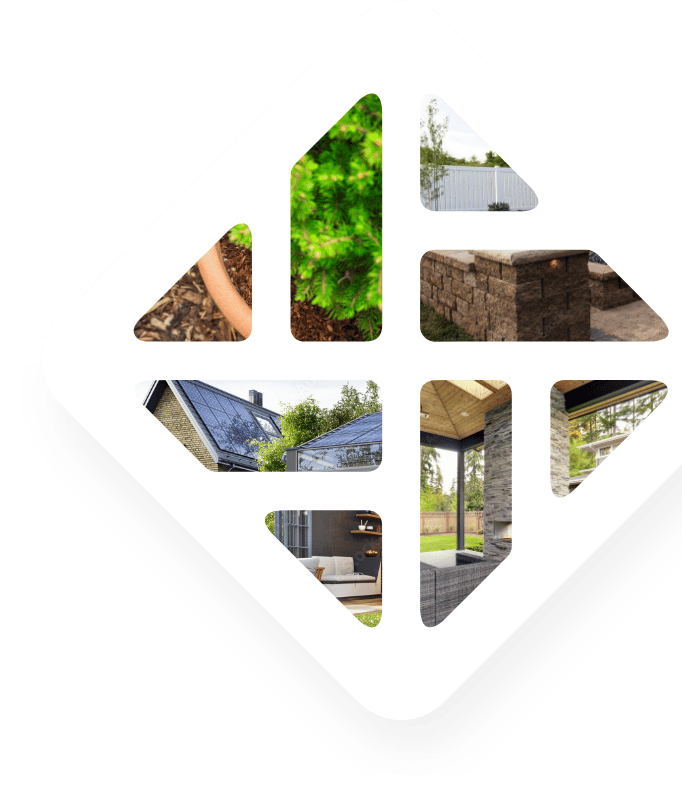 Everything you need for your next landscaping project in Bedford County
Inspiration
Whether it's our helpful staff or outdoor displays, get the inspiration you need for your project.
Products
Enjoy a well-stocked and organized yard so that you can get what you need - when you need it!
Service
Get the relationships, customer service, and complete satisfaction that comes from a local, family-owned business.
Landscaping Products for Bedford County
Do you find working in your backyard frustrating because…
You have an idea for your backyard but don't know how to make it a reality?

You don't know which product works best or how much product to order?

You're having trouble finding the specific pieces you need?
At Terrascape Supply, we want to help make your dream outdoors a reality by…
A knowledgeable team offering inspiration and advice

Having a variety of displays that showcase what's possible

Helping you find the perfect products

Providing a wide variety of materials

Delivery services with drivers who care about your property
We Make Quality Landscaping Materials
Simple in Bedford County!
Purchase
Order your products online or
visit our store.
Delivery or Pickup
Schedule a delivery date or pick them up.
Enjoy!
Enjoy working with quality landscape products!
Knowledgeable Team
From sales to delivery, our team is here to help you find the products that are right for you and your backyard.
Source of Inspiration
We want to help you with your next project, whether it's our helpful team or wide range of displays at our store.
Customer Service
We offer only the best in products, and we strive for complete customer satisfaction if something doesn't meet our standards.
Organized Yard
Our yard is kept clean and organized to make your experience as easy and clean as possible!
Your source for local landscaping
supplies in Bedford County, PA
Many homeowners and contractors in Bedford County have trouble finding the right landscaping products or inspiration they need for their dream outdoors.
At Terrascape Supply, our knowledgeable staff, well-stocked yard, and inspirational displays make sure you have everything you need to love your backyard!
Do you want your yard or front entrance to look good but need help figuring out where to start? 
At Terrascape Supply, we can help you make your outdoor dreams a reality! 
If you reside in Bedford County or surrounding counties, you can turn to our knowledgeable staff for inspiration and advice. Our landscape displays will show you the possibilities for your landscaping project!
Terrascape Supply offers various landscape supplies, including mulch, dirt and soil, stone and gravel, pavers, natural stone, water features, landscape lighting, outdoor firepits, and more! We're happy to help you find the right things for your home or business. 
Our trustworthy delivery drivers will bring your soil, mulch, and other landscape supplies to your property so you can start creating the space you've been dreaming about! 
Shop online, call us, or talk to us in person at our store in Hollidaysburg, PA. Whether you need landscape inspiration, a mulch delivery, or outdoor furniture, We're happy to help you find the landscape supplies you need! 
Bedford County is located in south-central Pennsylvania and has a population of 47,577. Bedford County covers 1,017 square miles of land and 4.6 square miles of water. 
A trading post was established in 1750 on the land, which is now Bedford County. At the time, it was known as Raystown. 
Bedford County was formed in 1771 and is named after Fort Bedford, built during the French and Indian War. 
Bedford County is known for its many covered bridges (14 of them!) and the Historic Springs Hotel, which was once an important natural spring to the Native Americans. 
The Historic Natural Springs Museum was loved by President James Buchanan and functioned as a "summer White House" for his administration. 
There are many natural landmarks to enjoy in Bedford County, including Evitts Mountain, Morrison Cove, Tussey Mountain, and Blue Knob. 
Bedford County is also home to several limestone quarries, two coal fields, and natural gas fields. 
If you live in Bedford County, PA, you're probably familiar with some of the wonderful things the county offers. Here are some of the top attractions: 
Bedford Springs Resort

Blue Knob All Seasons Resort

Shawnee State Park

Bedford County Fair

The Bison Corral

Warriors Path State Park

Flight 93 National Memorial

Gravity Hill
We serve all boroughs, townships, and census-designated places in Bedford County, including Bedford, Everett, Hyndman, Manns Choice, New Paris, Pleasantville, Rainsburg, St. Clairsville, Saxton, Schellsburg, Woodbury, Bedford, Bloomfield, Broad Top, Colerain, Cumberland Valley, East Providence, East St. Clair, Harrison, Hopewell, Juniata, Kimmel, King, Liberty, Lincoln, Londonderry, Mann, Monroe, Napier, Pavia, Snake Spring, South Woodbury, Southampton, Union, West Providence, West St. Clair, Woodbury, Alumbank, Defiance, Earlston, and Stonerstown. 
We serve all zip codes in Bedford County, including 15522, 15533, 15534, 15535, 15536, 15537, 15538, 15539, 15540, 15541, 15542, 15544, 15545, 15546, 15547, 15549, 15550, 15551, 15552, 15553, 15554, 15555, 15557, 15558, 15559, 15560, 15561, 15562, 15563, 15564, 15565, 15566, 15567, 15568, 15569, 15570, 15571, 15572, 15573, 15574, 15575, 15576, 15579, 15580, 15581, 15582, 15585, 15586, and 16613. 
The Bedford County Chamber of Commerce states: 
"The Bedford County Chamber of Commerce involves and unifies our members to promote continuous improvement of the business climate in our region. The Chamber is a living entity, growing and servicing businesses, the community, and the people of Bedford County.  Our non-profit organization exists to be a CATALYST for business prosperity, a CONVENER of leaders and influencers, and a CHAMPION of strong communities.
We welcome you to learn more about Bedford County, PA, get involved in Chamber activities, and join us in our efforts to make our home a wonderful place to live, work, play, and prosper." 
If you are a resident of Bedford County, PA, or surrounding counties, we offer you a large selection of mulch, soil, dirt, natural stone and gravel, outdoor furniture, grills, ovens, and much more! 
Call us today, or stop by our store for inspiration and begin your dream outdoor space. 
We look forward to hearing from you! 
We provide and delivery landscaping supplies to much of Central PA and Southcentral PA, including the following locations. Don't see your location below? Call us or contact us to see if we service your area!
Bedford County Landscape Supply FAQ's
Adding fresh mulch is a way to give your landscaping an easy update. Building a paver walkway and/or patio also adds considerable curb appeal. Adding a pergola or pavilion and fire pit area makes the outdoor living area much more attractive.
Spraying with a weed or grass killer is an easy way to prepare a landscape area for mulch. It is helpful to edge around the landscape area to create a clear line between the grass and the bed area. We recommend weed control fabric underneath decorative river rock but not under mulch.
We recommend using weed-control fabric under decorative stone, but it's not very helpful to use it under mulch.
Absolutely! While we don't provide official design or drafting services, we are happy to give you inspiration from our experienced team. We love outdoor living spaces and have lots of ideas for you on how to improve your backyard!
We carry a wide variety of decorative gravels and mulches; various paver, retaining wall, and fire pit hardscape products; fireplaces, Big Green Eggs, and grills; outdoor lighting; outdoor furniture; pergolas and pavilions; greenhouse and aquatic plants; and pond and fountain supplies.
We will deliver pretty much anything you can buy here. The most common products we deliver are mulches, gravels, hardscape products, and poly furniture.